Meet the MACH™ movers & makers
October 18-19, 2022, Fairmont Century Plaza, Los Angeles
How successful brands and retailers use state-of-the-art commerce technology to innovate and grow.
MODERN COMMERCE DAY 2022
About the Event
Modern Commerce Day (MCD) is the stage for commercetools' customers to share their transformation journey to modern, composable commerce with a broad audience. For 2022, as an in-person event, it's also an opportunity for attendees to reconnect with peers as well as network with industry leaders while gaining the knowledge needed to allow them to embrace the latest evolution of digital technology.
Regardless of whether you've already begun migrating to microservices-based, API-first, cloud-native, headless (MACH) architecture or are just exploring the possibilities of a modern commerce future, this unique event will exceed your expectations.
Get the real story from your peers:
Why composable architecture is the fail-proof strategy for the future
How business and tech teams are tackling migration & why this replatform is their last platform
How executives from big brands gained buy-in & how they're measuring success
Why composable architecture is able to turn omnichannel from vision to reality
Last Year's Highlights
Take a sneak peek from Modern Commerce Day 2021
Why should you attend Modern Commerce Day 2022?
Mingle and network with like-minded folks
You'll be surrounded by your commerce industry peers, from both B2B & B2C brands, who, like you, struggle and succeed every day in the commerce space.
Carrie Tharp's Keynote
The VP of Retail and Consumer for Google Cloud will engage you. You're certain to take away valuable knowledge from her time as a management consultant and her leadership roles at Fossil, Neiman Marcus and Google.
The truth, direct from your peers
Hand-selected commercetools customers will share candid stories as they highlight the journey, trajectory, vision, stumbling blocks and victories on their journey from monolith to modern commerce.
Inspiration, goosebumps & more Inspiration
Every speaker, every presentation will make an impact. You'll leave the conference with a lot of energy and confidence — inspired to make bold moves in your business.
Be a star in the city of Los Angeles
Yes! You work hard, but plan to join us the night before at our welcome reception and for the after-party. Celebrations will continue through the evening — you never know what could happen or who might show up.
Join us live on Oct 19, 2022
Register now to join Modern Commerce Day 2022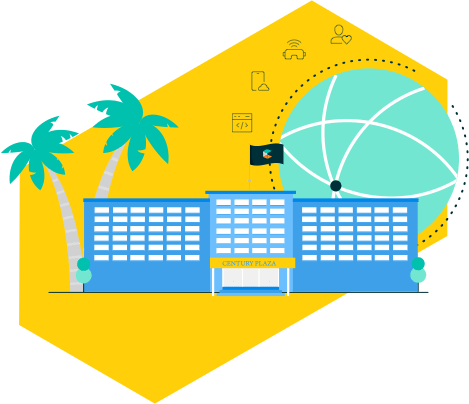 Enjoy the glamorous luxury of the legendary Fairmont Century Plaza. A former 20th Century Studios backlot, steeped in Hollywood history and pop culture — the Fairmont is where the business meets celebrity, and deals get done.
We look forward to not only providing the opportunity for you to gain knowledge and insight into the latest commerce technology, but also to enjoy the unique experience that is the Fairmont.
Your ticket grants you access to all MCD-related and includes 2-night hotel lodging at a special reduced rate.
Special attention has been paid to meet ADA guidelines and provide reasonable accommodation.
Fairmont Century Plaza
2025 Avenue of the Stars
Los Angeles, CA 90067
Why should I attend?
If you're from a business or tech background and fascinated with the ways in which modern composable architectures are impacting organizations, this event is a must.
Attend Modern Commerce Day to:
Hear how eCommerce visionaries have helped their organizations cross the Commerce Possibilities Chasm and drive the Modern Commerce mindset within their organization
Learn about why eCommerce replatforming is a thing of the past and what vastly better options are out there
Understand the metrics and KPIs associated with Modern Commerce
Discover how brands uncovered the keys within their own organizations to make the impossible possible
Who attends this event?
This event is made for anyone and everyone responsible for propelling digital commerce into the future within their organization, and desire to meet, learn from and collaborate with peers who are already adopting Modern Commerce. This includes:
Front-line practitioners, such as VPs of eCommerce, and heads of IT and Architecture
C-level executives, including CIOs, CDOs and CMOs, strategists and those planning the future direction of their business
Fortune 500 and Fortune 1000 companies with mature digital organizations and/or burgeoning online business models across a broad spectrum of markets
Contact Us
Please get in contact with us if you are interested in being a speaker, if you
work for a B2C and B2B Commerce organization and would like to be invited to our
next event or if you have any questions regarding the event